SAP Information Steward
Data profiling and metadata management tools for continuous insight into the quality of enterprise information for data governance initiatives.
SAP Information Steward at a glance
Information governance & data profiling
Facilitate collaboration and support governance processes that define data ownership in accordance with business needs, roles, and policies. Find error hot spots where controls should be refined and adjusted.
Data quality monitoring & cost savings
Get a complete view of data quality reports by using dashboards and scorecards. Forecast the potential savings of improved data quality by running what-if analyses.
Metadata management
Enhance operational, analytical, and data governance initiatives by automating the collection of technical and business metadata for your applications repository and dictionary.
Cleansing package builder
Empower experts to develop custom data-cleansing solutions for any domain to identify and address upstream causes of data issues and reduce the cost of downstream cleanup.
Data lineage
Help ensure your information is accurate and trustworthy by evaluating the merits of changes in your data structures and sources to lower risk and improve data quality.
Impact your business with improved data stewardship and data integrity
Maximize your visibility into data quality metrics.
Gain a better understanding of data quality across your data management landscape. Access and analyze metrics by using intuitive dashboards and scorecards.
Enhance data governance with consistent processes.
Improve enterprise information management initiatives by supporting analysts, data stewards, and IT experts with consistent validation rules and guidelines.
Lower IT costs and complexity with one solution.
Discover, assess, define, monitor, and improve the quality of your enterprise data assets with data profiling and metadata management – all with one solution.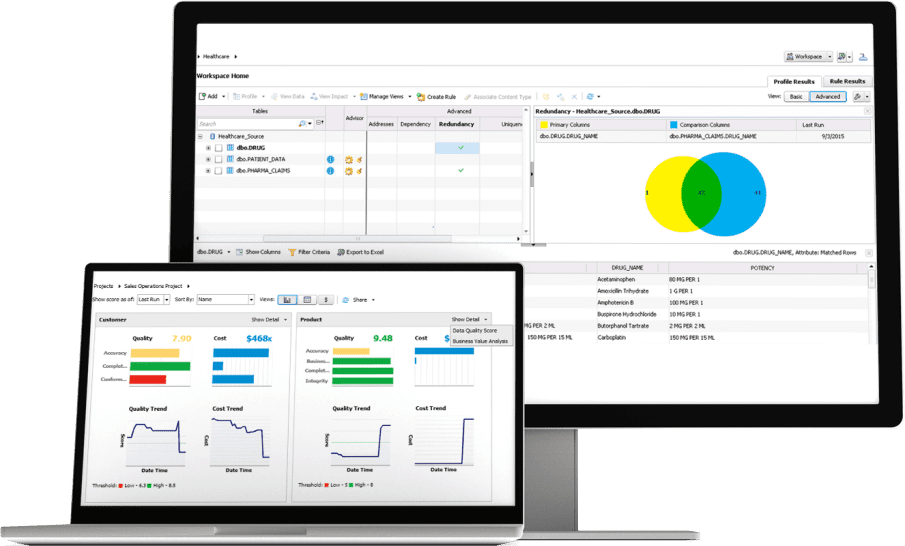 Data Insights for your enterprise
Fill the gap in your data quality process with Information Steward's Data Insights functionality.
Dashboards for data stewards.
IS provides dashboards and recurring scorecards for data quality profiling and for continuous monitoring of data quality scores based on your existing data rules.
Shareable Data Quality Scorecards.
Share insight and knowledge on the consistency and trustworthiness of your data. The Data Quality Scorecard provides a simple, shareable set of metrics showing:
Latest quality score

Data quality score metrics

Quality trend over time / run

Customizable Key Quality Dimensions (KPI) for your data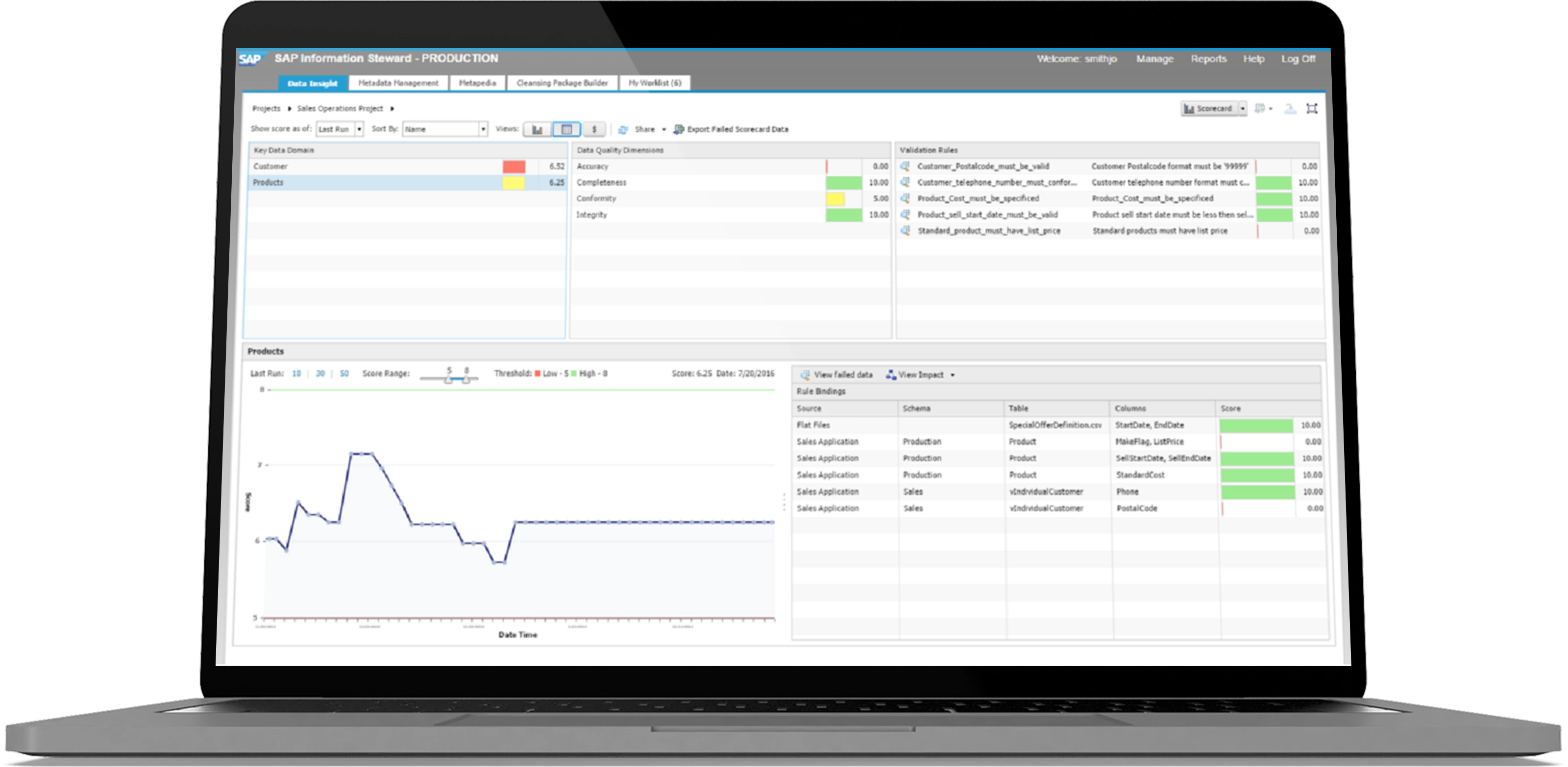 A central location for data definitions
Metapedia.
Easily deploy an access-controlled, searchable wiki that has been highly specialized to act as a central location for defining, managing and implementing business terms and data policies.
Custom attributes supported

Built-in approval workflow for admins

History management and reversion supported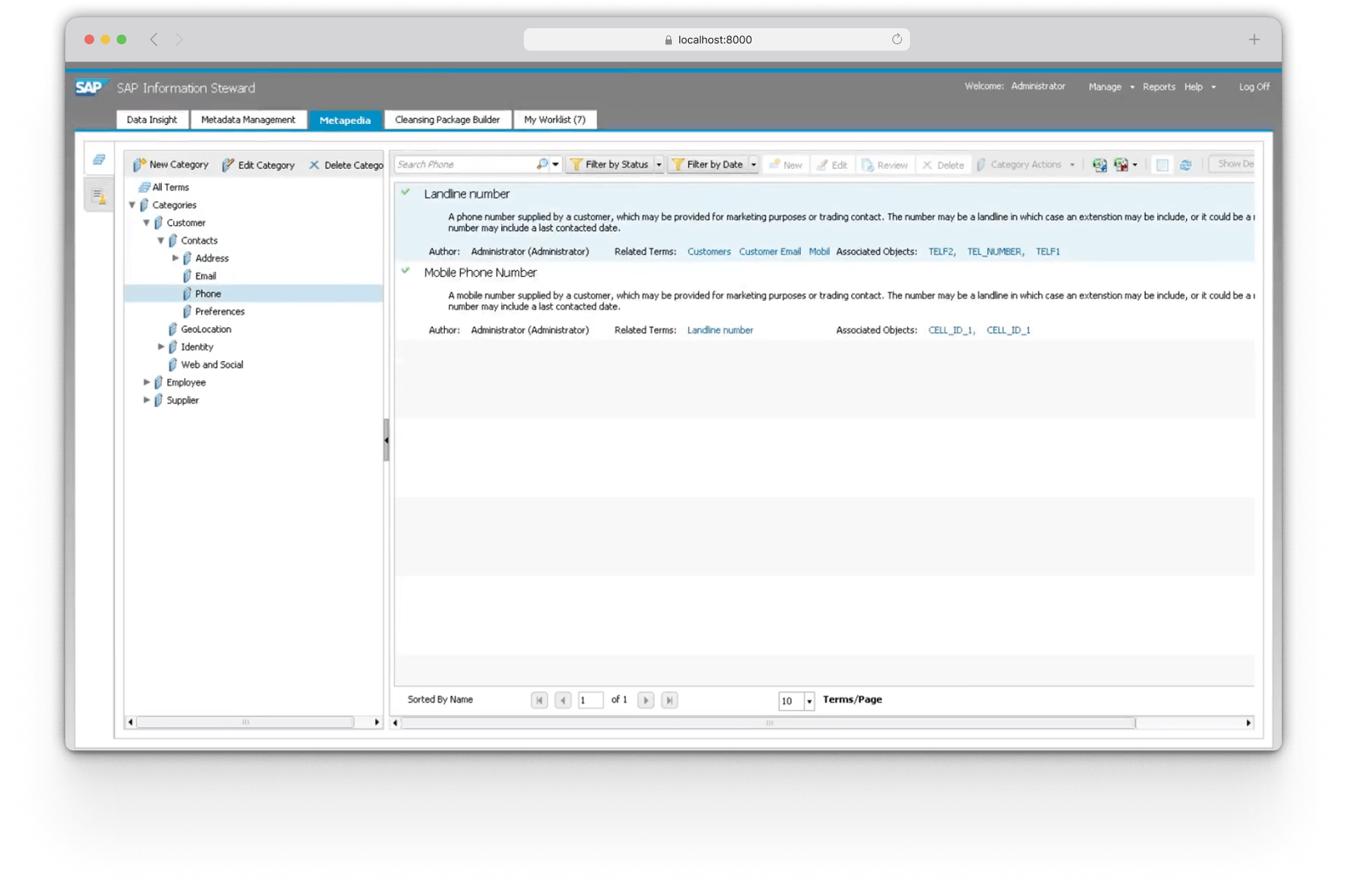 Frequently asked questions about SAP Information Steward
Can I run SAP Information Steward in a pure virtual environment?
Yes. If IS will be run in a pure virtual environment, physical Cores will not be counted. Instead, each virtual Core that runs the licensed software, including those that are temporarily assigned or scheduled to cover peak processing, is counted.
Can Information Steward and Data Services share a single database repository?
Yes, they can share a single database server instance, but differentiated by database or database schema.
Is Metapedia a suitable solution to document data standards?
Yes, Metapedia is intended to be a business glossary, which could very well be used to document data standard definitions.
What native SAP Metadata Integrators does SAP Information Steward support?
SAP Information Steward supports native metadata integrators in support of SAP PowerDesigner, SAP Data Federator, SAP Data Services, SAP HANA, SAP NetWeaver Business Warehouse and SAP BusinessObjects Enterprise.
In addition to these native SAP metadata integrators, there are additional native metadata integrators in support of Common Warehouse Modeling (CWM) and popular relational databases, including Teradata, Sybase SQL Anywhere, MySQL, Oracle, MS SQL Server, IBM DB2.
Ready to get started?
Request a demo or talk to our sales team to answer your questions about SAP Information Steward